Where We Create TV & Talk Radio Shows, Conservative
   News & Cartoons for Our Subscribers, Viewers and the Public.
(WFZR Radio / WFZ-TV)
Monday, June 11, 2012
Posted by bh
FREE ZONE MEDIA CENTER WFZR FZTV
How does one become the recipient of Obama's cronyism? Apparently, an alternate path to massive campaign donations (à la Solyndra) is being involved in massive scandal. Such is the case with Aspire Resources, who last month became one of the primary collection agencies for government student loans (a trillion dollar industry, before those "greedy" banks handled both the loans and collection thereof). Obama, in what some considered an attack on capitalism, and others a downright unconstitutional act, took over the student loan industry in 2009.
What scandal was Aspire Resources involved in?
With a little digging we found Iowa Student Loans (ISL), the non-profit arm of Aspire Resources, was mired in scandal just months before Obama won the Presidency.
"A report released last fall by Iowa's Attorney General Tom Miller demonstrates how ISL officials carried out this strategy. According to the report, the agency's leaders pursued a concerted strategy to steer students in the state to its most expensive private student loan products. Among other things, the AG found that ISL had provided kickbacks to colleges that recommended its private "Iowa Partnership Loans" to their students; gave financial rewards to their employees based on the number of private loan borrowers they secured; paid bonuses to staff members at the college access centers they managed based on the number of borrowers they brought in; falsely advertised its private loan products as the "lowest cost" options available; and routinely failed to advise students and their families to exhaust their federal student loan eligibility before taking out private loans."
Maybe Darrell Issa should take a few days off from Fast and Furious and investigate how a scandal-ridden company got a multi-billion dollar contract with the U.S. government.
Sunday, June 10, 2012
Posted by BH
FREE ZONE MEDIA CENTER WFZR FZTV
~~~
FREE ZONE MEDIA CENTER WFZR FZTV
By Jack Minor
GREELEY, Colo. – Lawmakers in Colorado say they want a study of groundwater issues in the northeastern part of the state where farmers have been banned from pumping from their wells for several years.
But farmers and local officials there say this historic drought is an emergency and the governor should use his executive authority to bypass the judiciary.
WND previously reported how farmers in Weld County are facing the possibility of losing their crops because the courts have refused them permission to use water right under their feet, groundwater that is rising and actually seeping into basements.
Now an estimated 200 farmers have met in a show of solidarity, signing a statement to the government that if they are not allowed to turn on their wells and irrigate their crops they will not be able to pay taxes next year.
This year's snowpack is only 2 percent of average, tying a record low set during another historic drought in 2002.
Over the decades, wells were drilled to supplement low water usage during times such as this. However, several years ago the courts ordered the wells shut down because farmers were not "augmenting" or replacing the water they removed from the ground.
Saturday, June 9, 2012
Posted by Robert Bassett
FREE ZONE MEDIA CENTER WFZR
Saturday, June 09, 2012
SOMALI: DEVOUT MUSLIM GROUP OFFERS 10 CAMELS AS BOUNTY FOR OBAMA
Sounds fair. Muslims offer 10 camels for Obama. Market value. And two camels for Hillary. Perf!
Somali Islamists offer 10 camels as bounty for Obama CNN Wire Staff, Sat June 9, 2012
The average cost of a camel in Somalia is $700, according to a university study.
STORY HIGHLIGHTS

The militant Al-Shabaab jeered a U.S. reward offered for seven of its key members

A man purporting to one of those wanted by the United States makes a counter offer

He offers 10 camels as a reward for information on the whereabouts of President Obama

Hillary Clinton's bounty is two camels

(CNN) -- The United States offers millions for information leading to the capture of the world's most wanted terrorists.

A Somali militant group has purportedly countered with an offer of camels for U.S. officials.

Al-Shabaab has placed a bounty of 10 camels for President Barack Obama and two camels for information on Secretary of State Hillary Clinton.

An audio statement posted on jihadist websites purportedly from Al-Shabaab jeered news that the United States is offering millions of dollars for information on seven key members of al-Shabaab through its Rewards for Justice program.

The man on the audio claimed to be Fuad Mohamed Khalaf, considered by the State Department to be Al-Shabaab's leading fundraiser. The United States has offered $5 million for information of his whereabouts.

"Whoever brings the mujahidin information about the whereabouts of infidel Obama and the lady of Bill Clinton, the woman named Hillary Clinton, I will give a reward," the man said.

A study by Galkayo University, which looked at the effects of drought on livestock, said the average cost of a camel in Somalia is $700.

CNN can not independently verify the authenticity of the audio recording, which was purportedly made by Khalaf during a speech to followers in the southern port city of Merca.

This year, he and al Qaeda's leader, Ayman al-Zawahiri, released a joint video formally announcing a merger between the terror groups.

In announcing the bounties on Mohamed and his key associates Thursday, the State Department called al-Shabaab "a threat to the stability of East Africa and to the national security interests of the United States."

The State Department said it is also offering up to $5 million each for information leading to the location of four of Aw-Mohamed's associates, including Khalaf. In addition, it is offering up to $3 million each for two of the terror group's other leaders.
Posted by BH
FREE ZONE MEDIA CENTER WFZR FZTV
DO NOT PICK UP A FREE FLASHLIGHT ON THE STREET ?
PHOENIX - Flick the switch on these flashlights and they don't light up. They blow up.
Three of these bombs have exploded within the last month in the Phoenix area, causing minor injuries to five people and raising fears of more serious ones.
Police still have no idea who is behind them and have taken the unusual step of putting up 22 billboards across the sprawling metro area to warn residents about discarded flashlights.
"The nature of the bombings are so random," said Tom Mangan, a special agent at the U.S. Bureau of Alcohol, Tobacco, Firearms and Explosives in Phoenix.
Mangan said the agency has ruled out any connection to terrorism because the targets have been random and there have been no messages or demands.
The ATF said the bombs appear to have been made by the same person or people because their design was identical.
An explosive was placed inside the flashlights with a smaller battery and rigged so that turning it on would send an electrical current that triggered the blast, Mangan said. He declined to identify the explosive material.
The first bomb was spotted by a passerby on May 13 in a suburb just west of Phoenix. It was sitting behind a palm tree in a strip mall and blew up when it was clicked on.
The next day, about 10 miles away, a landscaper found a flashlight in an irrigation ditch. It, too, exploded when he flicked the switch, authorities said.
The third bomb exploded on May 24 at a Salvation Army distribution center near downtown Phoenix and about 11 miles from the first one.
An employee detonated the device while sorting through donations, forcing 120 people in the store to evacuate. Jon Bierd, production manager at the facility, said the worker suffered a small abrasion to his forehead.
The Salvation Army stopped accepting donations of flashlights. Since the explosion, employees have not seen any flashlights matching the yellow one seen on the billboards.
"If we have a flashlight that's heavy or is not empty, then I'd call the Phoenix Police Department. No matter where it is, we do not touch it," said Bierd, who is setting aside any flashlight that is donated.
In addition to the billboards, police are offering a $10,000 reward for tips that lead to an arrest or conviction.
Police have received dozens of calls reporting possible flashlight bombs that either turned out to be false alarms or hoaxes, including one from a Goodwill store.
Meanwhile, the bombings have stopped, though it is unclear whether there are more flashlights out there.
The attention may have scared them off or they may gain confidence and strike again as the investigation stretches on without an arrest, criminal profiler Gregg McCrary said.
Details of the case lead the former FBI agent to think the culprit is either a man or two men, with one of them being a dominant leader and the other a follower.
As for motive, whoever is responsible may be bombing at random for various reasons, said McCrary, who teaches at Marymount University in Virginia.
"Typically these things are about wanting to feel superior and smarter than other people," he said, adding that they also might revel in the news coverage.
"There'll be a vicarious thrill or excitement watching news coverage, and it's kind of like: `Look what I've done.' It's a sense of empowerment that `I made all this happen,'" he said.
Mangan said the remnants of the bombs are at a laboratory and being studied for fingerprints and other DNA evidence. The ATF said it will try to trace the materials used in the bombs to see where they were bought.
Mangan said his agency and others are concerned that the bombings will resume, possibly in a different container. They're also worried that the injuries won't be so minor next time.
"Anytime any individual uses a bomb, their purpose is to create fear in the community and also to inflict serious injury or death," he said.
Posted By Woody Pendleton
FREE ZONE MEDIA CENTER WFZR
http://www.washingtontimes.com/news/2012/jun/8/enough-schoolboy-excuses/
If speed cameras were truly dedicated to the noble cause of saving lives, the people who run the programs would operate in an above-board fashion. They don't.

That's why camera-operator deceit became the center of attention Tuesday in Maryland's highest court.
Judges for the Court of Appeals, Maryland's equivalent of a supreme court, heard oral arguments in a case that will determine whether Montgomery County and a number of municipalities are brazenly violating a provision of state law prohibiting for-profit corporations from operating cameras in such a way that they receive a financial reward for churning out more citations.
This attempt at motorist protection was added to the 2006 bill authorizing the county's cameras to assuage members of the General Assembly who wavered in their support of the camera measure, which then-Gov. Bob Ehrlich had vetoed as a blatant cash grab.

Seven Republicans ultimately betrayed their governor in overriding this veto.
Despite the law, Montgomery County, Gaithersburg and Rockville are paying Affiliated Computer Services (ACS), a Xerox subsidiary, $16 for each ticket the company issues.

With the logic of a school boy attempting to avoid detention, these jurisdictions re-wrote their contracts in 2009 to affirm that

ACS

does not "operate" the speed cameras, since the law only bans "operators" from receiving per-ticket compensation.

ACS

and other similar firms install, own, maintain and calibrate the cameras.

They take the photographs, determine who's guilty, prepare evidence for court trial, mail out tickets, collect the fines, pursue those who don't pay and run public-relations campaigns to defend the program.
The only thing of consequence that local governments do is press a button to approve the tickets sent over by the vendors.

Lawyers representing the counties and cities insist this phony, rubber-stamp process ensures there is no way for the private company to make a few extra bucks by issuing more tickets because government employees retain the final say.
Judge Lynne A. Battaglia pointed out there would be no reason to provide a performance incentive to the vendor if there truly were no way for the company to improve its performance.

"Why have a bounty system if everything is being done by the county?"

the liberal jurist asked.
Timothy Leahy, the attorney representing ticket recipients, was similarly unimpressed by the word games used to avoid paying a flat fee to camera contractors.

"It reminds me of former President Clinton saying 'it depends on what the definition of is is,'

" Mr. Leahy told The Washington Times. He's optimistic the court may feel the same way in a final ruling that could come as early as August.
By the reckoning of StopBigBrotherMD.org, Old Line State speed cameras generated $77 million last year. Keeping that sizable revenue stream alive is the primary motivation of those who depend on this loot. The Court of Appeals needs to come down hard on this greedy use of deceit to rob commuters.
Posted By Robert Bassett
FREE ZONE MEDIA CENTER   WFZR
Obama Accused Of Sexual Harassment While at Harvard Law Review
I am not surprised with this president.
(Free Republic) During Barack Obama's tenure as the president of the Harvard Law Review in the late 1980s, at least two male student editors complained to colleagues and senior university officials about inappropriate behavior by Obama, ultimately leaving their positions at the journal, multiple sources confirm to THE KANSAS CITIAN.
The men complained of sexually suggestive behavior by Obama that made them angry and uncomfortable, the sources said, and they signed agreements with the university that gave them financial payouts to leave the journal. The agreements also included language that bars the men from talking about their departures.
In a series of comments over the past 10 days, Obama and his administration repeatedly declined to respond directly about whether he ever faced allegations of sexual harassment at the journal. They have also declined to address questions about specific reporting confirming that there were financial settlements in two cases in which men leveled complaints.
THE KANSAS CITIAN has confirmed the identities of the two male journal editors who complained about Obama but, for privacy concerns, is not publishing their names.
CLICK BELOW TO READ MORE
Posted By Woody Pendleton
FREE ZONE MEDIA CENTER WFZR
1.6 Trillion Dollars More Debt: Fiscal Conservatives Have Been Raped By The Republican Party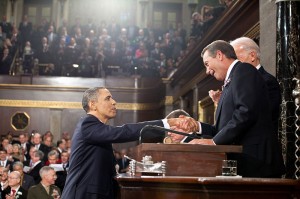 What the Republican Party has done to fiscal conservatives over the past year and a half has been a betrayal so vast that it is difficult to find words to describe it.

Back in 2010, the Tea Party was riding high and a flood of new Republicans was sent to the U.S. House of Representatives in one of the greatest landslides in U.S. political history.

On election night 2010, more House seats changed hands than in another other election since 1948. It was the greatest defeat for any sitting president in a midterm election since 1938.

After the election, the Democrats were left with fewer House seats than at any other time since 1946

. Needless to say, it was an absolutely historic election.

The Tea Party completely dominated American politics that night, and they sent the Republican Party a clear message that they wanted government debt to be brought under control.

So what has changed since then? Not much.

The U.S. government is still running trillion dollar deficits every single year.

I have previously spent a lot of time blaming Barack Obama and the Democrats for this,

but the truth is that they could not have spent a single penny without the approval of the U.S. House of Representatives. So the Republican Party is complicit in this crime against the American people.

If there was ever a mandate to take a stand against runaway government debt, it was after the 2010 election, and the Republican Party has failed miserably.

So what are fiscal conservatives supposed to do now?
As CNS News recently pointed out,

the U.S. national debt has increased by approximately 1.6 trillion dollars over the past 15 months. This Congress has added more to the national debt than the first 97 Congresses combined....
When Boehner became speaker on Jan. 5, 2011, the federal government was operating under a continuing resolution that had been passed on Dec. 21, 2010 by a lame-duck Congress. That CR expired on March 4, 2011.


On March 1, 2011, Boehner agreed to a new short-term spending deal with President Barack Obama and Democratic congressional leaders to keep the government running past the March 4, 2011 expiration of the old CR. Since March 4, 2011, federal expenditures have been carried out under a series of CRs approved by both the Republican-controlled House and the Democrat-controlled Senate and signed into law by President Obama.

At the close of business on March 4, 2011, the total federal debt was $14,182,627,184,881.03, according to the Treasury Department's

Bureau of the Public Debt

.

At the close of business on May 31, 2012, it was 15,770,685,085,364.14.

That is an increase of $1,588,057,900,483.11—in just 15 months.
We should expect Democrats to act like this. They don't seem to even care that they are plunging our nation into financial oblivion.
But Republicans are always giving speeches about how bad the national debt is. They are endlessly promising us that they are going to stand up to Barack Obama.
Sadly, they never seem to deliver.
Most Republican politicians seem to have absolutely no backbone.
If the Republicans had wanted to stop these trillion dollar deficits they could have done it.
They could have said no to anything but a balanced budget.
Not a single penny of government money can be spent unless it is approved by the U.S. House of Representatives, and the Republicans have total control of the U.S. House of Representatives.
So why are we still running trillion dollar deficits?
Why does our national debt chart still look like this?....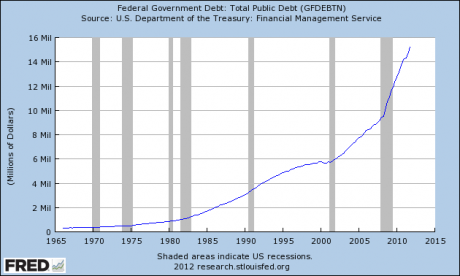 The Republican Party is a poor excuse for a political party at this point.
They can't even stand up for the most basic things that the party is supposed to stand for.
Why should anyone give them any money? Why should anyone volunteer to work on their campaigns?

They never do the things that we send them to Washington D.C. to do.
If they are not going to work for us, then why should any of us ever work for them?
The U.S. national debt is not some small issue.
It is the greatest debt in the history of the world and it threatens to destroy the future for all Americans.
Right now, the United States already has more government debt per capita than Greece, Portugal, Italy, Ireland or Spain does. How much worse does it have to get before we all start screaming at the top of our lungs?
When Ronald Reagan was elected, the U.S. national debt was less than a trillion dollars.
Now it is almost 16 trillion dollars.
And the Republican Party had control of the White House most of the time that debt was being run up.
Shame on the Republican Party! Most of them are just a bunch of watered-down Democrats when it comes to fiscal issues.
Sadly, the American people are not even being told how bad things really are.

If the federal government used GAAP accounting standards, the real federal budget deficit for last year would have been

5 trillion dollars

instead of 1.3 trillion dollars.
A recent USA Today article explained how this number was arrived at....
Under those accounting practices, the government ran red ink last year equal to $42,054 per household — nearly four times the official number reported under unique rules set by Congress.
A U.S. household's median income is $49,445, the Census reports.


The big difference between the official deficit and standard accounting: Congress exempts itself from including the cost of promised retirement benefits.

Yet companies, states and local governments must include retirement commitments in financial statements, as required by federal law and private boards that set accounting rules.
Yes, we should definitely blame the Democrats for this. The Democrats are absolutely horrible.
But where are the Republicans?
They could have blocked all of this if they wanted to.
Just think about that for a while.
By the end of this hour, the federal government will steal 150 million dollars from future generations.
Then they will do that again next hour.
And the hour after that.
And the hour after that.
The Republicans could stop this nightmare but they refuse.
If Mitt Romney is elected he is not going to stop it either.
According to a recent article in the Washington Times,

Romney admitted that he has absolutely no plans to balance the federal budget in his first year during a recent campaign stop....
"My job is to get America back on track to have a balanced budget. Now I'm not going to cut $1 trillion in the first year"
So why aren't fiscal conservatives howling in outrage?
It is because they are so scared of another term for Obama that they are willing to go along with just about anything.
They are even willing to vote for Mitt Romney.
During that same campaign stop, Mitt Romney went on to explain why he does not plan to balance the budget....
"The reason," he explained, "is taking a trillion dollars out of a $15 trillion economy would cause our economy to shrink [and] would put a lot of people out of work."
And you know what?
Mitt Romney is right about that.
Sucking a trillion dollars out of the economy would make the economic statistics look absolutely horrible and would guarantee him a one way ticket out of the White House in 2016.
Our politicians don't want to ever cut the budget significantly because it will hurt the economy and make them look bad. If they look bad then there is a good chance that they will not be elected again.
So we continue to steamroll down the same path that Greece has gone.
In the end, our financial system will be absolutely destroyed.
Things did not have to turn out this way.
The Republican Party could have taken a stand.
But they didn't. The cowards in the Republican Party always gave in.
So now we all get to pay the price.
The greatest debt bubble in the history of the world is going to burst and America is going to be completely devastated.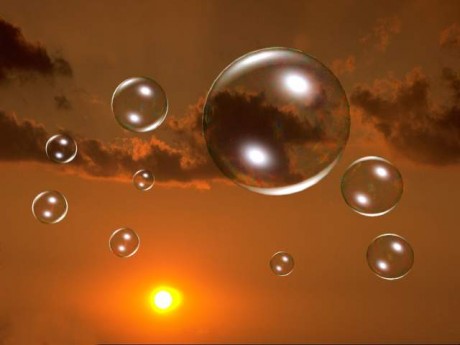 Posted by BH
FREE ZONE MEDIA CENTER WFZR FZTV
Posted By Woody Pendleton
FREE ZONE MEDIA CENTER WFZR
Subject:

FW:

World's Shortest Books (New edition)
____________________________________________

THINGS I LOVE ABOUT MY COUNTRY

By Jane Fonda & Cindy Sheehan

Illustrated by Michael Moore

________________________________________

MY CHRISTIAN ACCOMPLISHMENTS

& HOW I HELPED AFTER KATRINA

By Rev Jesse Jackson & Rev Al Sharpton

______________________________________

Sequel:

THINGS I LOVE ABOUT HILLARY

____________________________________

THINGS I WOULD NOT DO FOR MONEY

_________________________________

THINGS WE KNOW TO BE TRUE

_____________________________________

HOW TO LIVE LIFE TO THE FULLEST

__________________________________

TO ALL THE MEN WE HAVE LOVED BEFORE

By Ellen de Generes & Rosie O'Donnell

GUIDE TO DATING ETIQUETTE

__________________________________

THE AMISH PHONE DIRECTORY

_______________________________________

MY PLAN TO FIND THE REAL KILLERS

By O. J. Simpson

&

Casey Anthony

_________________________________________

HOW TO DRINK & DRIVE SAFELY

Tiger Woods with John Edwards

____________________________________________________

___________________________________________________

My Complete Knowledge of Military Strategy

________________________________________________________

And the shortest book of them all.......................

THINGS I DID TO DESERVE THE NOBEL PEACE PRIZE