Where We Create TV & Talk Radio Shows, Conservative
   News & Cartoons for Our Subscribers, Viewers and the Public.
(WFZR Radio / WFZ-TV)
Thursday, August 16, 2012
FREE ZONE MEDIA CENTER WFZR FZTV
After news broke Wednesday of the New Black Panthers calling for the killing of white babies (see that here), more shocking audio from the group's radio program has now surfaced. In the organization's radio opening for August 13, they play a shocking segment from Khalid Muhammad, a former spokesman for Louis Farrakhan's Nation of Islam. In it, he advocates extreme violence against white people in general, and specifically gays, lesbians, babies, and women:
We give them 24 hours in South Africa to get out of town by sundown. I say, if they don't get out of town, we kill the men, we kill the women, we kill the children, we kill the babies, we kill the blind, we kill the cripple, we kill the crazy, we kill the fa**ots, we kill the lesbians, I say god dammit we kill them all.




If they are white kill 'em all. Why kill the women? Why kill the babies? They are just innocent blue-eyed babies? Because god dammit they are going to grow up one day to rule your babies. Kill them now. Why kill the women in South Africa? I say kill the women because the women are the military manufacturing center. And every nine months they lay down on their backs and reinforcement rolls out from between their legs, so shut down the military manufacturing center by killing the white woman."




Why kill the older crackers? The old crippled crackers in South Africa. How in the hell you think they got old? They got old oppressing and killing black people [inaudible].




Kill 'em all. Kill the fa**ot. Kill the lesbian. And after you've killed them all […] I say then you go to the god damn grave, and dig 'em up, and then kill 'em a-god-damn gain because they didn't die hard enough.
You can see a longer version of the speech below:
Discoverthenetworks.com has more on Muhammad, who was killed in 2001. Regarding the speech, it was delivered at Kean College in 1993 and gained him notoriety because of how graphic it was:
Wednesday, August 15, 2012
Posted by WP
FREE ZONE MEDIA CENTER WFZR/TV
NOAA Buying Hollow-Point Ammo … for Weather Service?
The National Oceanic and Atmospheric Administration has put in an order for 46,000 rounds of .40-caliber hollow-point bullets.
This follows the order of 450 million rounds of hollow-point ammo by the Department of Homeland Security.
The NOAA order was originally attributed to the National Weather Service, but once the news got out, the NOAA said the ammo and 500 paper targets were intended for its Fisheries Office of Law Enforcement. The online order still says National Weather Service, however.
Hollow-point bullets are designed to flatten and spread out on impact, causing a larger wound than ordinary ammunition and increasing the likelihood of a fatal injury.
It's not the sort of thing you would normally waste on shooting paper targets. Or on fish. Or on rainclouds.
All of which raises a few questions. …
Meanwhile, back at the Department of Homeland Security, officials have been making preparations for what looks like a civil war.
In addition to the millions of rounds of bullets, the DHS has been ordering riot gear, bulletproof traffic-stop booths and even more bullets — these .357-Magnum rounds capable of shooting through walls.
All this beefing up of DHS forces is ostensibly in preparation for the Democratic and Republican national conventions and the presidential inauguration.
The New Black Panther Party has threatened violence at the Republican convention. Chief of Staff Michelle Williams threatened the RNC, saying the Black Panthers' "foot will be on you goddamn motherf—ers' necks."
These are the people Attorney General Eric Holder gave a pass to in a voter intimidation case.
Occupy Wall Street, according to its website, is planning protests during both political conventions, but since OWS is manipulated by the White House, the real action will likely be at the Republican convention.
With the DHS and other agencies armed to the teeth, look for things to possibly get ugly very quickly in Tampa.
Read more:
http://godfatherpolitics.com/6604/noaa-buying-hollow-point-ammo-for-weather-service/#ixzz23fLabTmu
Posted by WP
FREE ZONE MEDIA CENTER WFZR/TV
'Obama DREAM Act' proves need for voter photo ID laws
rts!
The famous Chicago 'Godfather,' Al Capone, would be proud of the way that President Barack Obama and his administration are freely trampling the U.S. Constitution, to 'enlarge' sympathetic [minority] voting pools--while simultaneously using good friend Eric Holder's Department of Justice to challenge pesky 'voter photo ID laws.'
Clearly, the 'position' of the horse and cart are irrelevant, as 'Operation Election Theft' involves a 'massively-parallel' tactical architecture, which is being implemented simultaneously across the nation by Team Obama.
On the one hand is President Obama's failure to uphold his oath of office to ... "defend the Constitution of the United States," by using a most-likely illegal Executive Order to circumvent Congress' rejection of the Democrat's 'DREAM Act' legislation--now known as 'Obama's DREAM Act.'
And today the game began, with young illegal immigrants are lining up by the thousands at consulates across the country to take advantage of the Obama administration program allowing them to apply for a two-year reprieve from deportation, according to Catherine Herridge's FOXNews article today.
Incredibly, 1.8 million undocumented immigrants could be eligible for the program, which requires applicants can fill out a six-page form, pay a $465 fee and submit documents proving their identity in order to qualify.
However, although immigration officials say the documents will be closely scrutinized--given the potential for fraud--as expected, there is no uniform standard. Lines began forming yesterday, as illegal immigrants tried to get a leg up in seeking their 'passport applications.'
The crowds Tuesday and Wednesday are the most visible demonstration to date of how many people are interested in applying for Barack Obama's new reprieve program named "Deferred Action for Childhood Arrivals."
Applicant Kristi Alarcon, who was waiting in line outside Houston's Mexican consulate, capsulized the real 'intent' for Team Obama to make this [also probably unconstitutional] program a pre-election priority...
"We are waiting for our passports. We want to get our passport, because Obama might be asking for them."

And across the country, in the City of Angels, advocates were holding workshops to 'teach' illegal immigrants how to apply under the program, whose requirements are not that stringent, and interestingly 'capture' the requirements for being an eligible voter--must have a high school diploma or GED, or be a military veteran, and can't have a felony record.
Therefore, so long as they don't have to prove U.S. citizenship to get a government-issued photo ID card for voting, and the fact that the program only provides applicants with 'protection' for two years, would compel them to answer 'Obama's call' (as Ms. Alarcon put it above), and 'vote' in unrestricted droves for Barack Obama and Democrats in the November elections--especially in heavily Hispanic swing states like Florida, Colorado and...
Pennsylvania, where today, Commonwealth Court Judge Robert Simpson said he wouldn't grant an injunction that would have halted the law requiring each voter to show a valid photo ID--which Democrats say will suppress votes among President Barack Obama's supporters, according to an Associated Press article in FOXNews today.
The Republican-penned law that passed without a single Democrat vote, has ignited a furious debate over voting rights as Pennsylvania is poised to play a key role in deciding the presidential contest in November.
Democrats insist the law will suppress the elderly, minority, poor and college student vote--to help the Republican challenger, Mitt Romney, beat Democrat Barack Obama.
From a practical standpoint Democrat's claim is pure hyperbole.
First, the elderly already require photo ID to sign up for Medicare and to cash Social Security checks—or even open the bank account into which they are deposited.
Second, the 'poor' already had to produce a photo ID (and proof of citizenship) to register for welfare benefits and food stamps.
Finally, if there is a college student in this country who is a U.S. citizen and cannot produce valid U.S. birth certificate from just 18 years ago, then the origin of their Social Security number needs to be investigated--which has the 'dual purpose' of being their "Student ID Number."
Witold J. Walczak, an American Civil Liberties Union lawyer who helped argue the case for the plaintiffs, responded to the news with uninformed impotence...
We're not done, it's not over ... It's why they make appeals courts.

Unfortunately for Walczak and the Democrats, this gambit is over--because it would require four of the six Pennsylvania Supreme Court justices to overturn Judge Simpson's ruling--which is not very likely as the court is now evenly split between Democrats and Republicans.
Plaintiff's attorneys also argued that some voters won't know about the law until they get to the polls, where long waits would result as election workers struggle to carry out 'a complicated and unnecessary law,' amid the traditionally larger turnout in presidential elections.
Lawyers from the attorney general's office, parried that argument by pointing out the state will begin issuing a special photo ID card for registered voters, who are unable to get a Penn DOT-issued ID and lack any other photo ID that is acceptable under the law, such as a passport or active-duty military ID.
They also said the state is rolling out a public relations campaign to make [people] aware of the law.
In the end, Democrats can solve this voter photo ID problem by 'dual-tasking' the very same communication system and [campaign-funded] buses they have organized to pick these people up on election day, wherein they tutor them how to vote [the Democrat ticket], while feeding them lunch on the way to their polling places.
Obviously, the scurrilous words and deeds of Barack Obama and the Democrats reveal that it must be mandatory, at every polling place in the nation, to require proof of citizenship and residency for voter registration, and require a [current] photo ID to receive a voting ballot on Election Day, in order to maintain the integrity of the electoral process.
Copyright 2012 by Jeffrey Klein
"Stay informed to stay ahead!"
If you like what you have read, you can receive Mr. Klein's articles automatically as they are published, by visiting his blog at www.TheConservativeForce.com, and using the "Free Subscribe" button in the upper right corner of the page.
You can also follow us on Twitter at www.Twitter.com/JeffreyKlein2
Posted by WP
FREE ZONE MEDIA CENTER WFZR/TV
40 Points That Prove That Barack Obama And Mitt Romney Are Essentially The Same Candidate

By Michael, on August 15th, 2012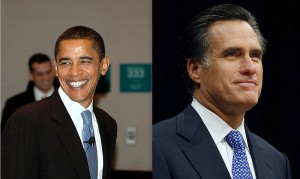 What a depressing choice the American people are being presented with this year. We are at a point in our history where we desperately need a change of direction in the White House, and we are guaranteed that we are not going to get it. The Democrats are running the worst president in American history, and the Republicans are running a guy who is almost a carbon copy of him. The fact that about half the country is still supporting Barack Obama shows how incredibly stupid and corrupt the American people have become. No American should have ever cast a single vote for Barack Obama for any political office under any circumstances. He should never have even been the assistant superintendent in charge of janitorial supplies, much less the president of the United States. The truth is that Barack Obama has done such a horrible job that he should immediately resign along with his entire cabinet. But instead of giving us a clear choice, the Republicans nominated the Republican that was running that was most similar to Barack Obama. In fact, I don't think we have ever had two candidates for president that are so similar. Yes, there are a few minor differences between them, but the truth is that we are heading into Obama's second term no matter which one of them gets elected. The mainstream media makes it sound like Obama and Romney are bitter ideological rivals but that is a giant lie. Yeah, they are slinging lots of mud at each other, but they both play for the same team and the losers are going to be the American people.
Republicans are being told that they have "no choice" but to vote for Romney because otherwise they will get another four years of Obama.
This "lesser of two evils" theme comes out every four years. We are told that we "must" vote for a horrible candidate because the other guy is even worse.
Well, millions of Americans are getting sick of this routine. Perhaps that is why it is being projected that as many as 90 million Americans of voting age will not vote this year.
Yes, Barack Obama has been so horrible as president that it is hard to put it into words.
But Mitt Romney would be just like Barack Obama.
Those that are dreaming of a major change in direction if Romney is elected are going to be bitterly, bitterly disappointed.
The following are 40 ways that Barack Obama and Mitt Romney are essentially the same candidate....
2. Mitt Romney supported Barack Obama's "economic stimulus" packages.
6. Barack Obama and Mitt Romney both fully support the Federal Reserve.
7. Barack Obama and Mitt Romney are both on record as saying that the president should not question the "independence" of the Federal Reserve.
8. Barack Obama and Mitt Romney have both said that Federal Reserve Chairman Ben Bernanke did a good job during the last financial crisis.
9. Barack Obama and Mitt Romney both felt that Federal Reserve Chairman Ben Bernanke deserved to be renominated to a second term.
10. Both candidates oppose a full audit of the Federal Reserve.
11. Both candidates are on record as saying that U.S. Treasury Secretary Timothy Geithner has done a good job.
15. Neither candidate wants to eliminate the income tax or the IRS.
17. Both candidates are "open" to the idea of imposing a Value Added Tax on the American people.
18. Barack Obama and Mitt Romney both believe that the TSA is doing a great job.
20. Barack Obama and Mitt Romney both supported the renewal of the Patriot Act.
21. Barack Obama and Mitt Romney both believe that the federal government should be able to indefinitely detain American citizens that are considered to be terrorists.
22. Both candidates believe that American citizens suspected of being terrorists can be killed by the president without a trial.
23. Barack Obama has not closed Guantanamo Bay like he promised to do, and Mitt Romney actually wants to double the number of prisoners held there.
24. Both candidates support the practice of "extraordinary rendition".
25. They both support the job-killing "free trade" agenda of the global elite.
26. They both accuse each other of shipping jobs out of the country and both of them are right.
28. Neither candidate has any military experience. This is the first time that this has happened in a U.S. election since 1944.
30. They both believe in the theory of man-made global warming.
33. Both candidates have been pro-abortion most of their careers. Mitt Romney's "conversion" to the pro-life cause has been questioned by many. In fact, Mitt Romney has made millions on Bain Capital's investment in a company called "Stericycle" that incinerates aborted babies collected from family planning clinics.
34. Barack Obama and Mitt Romney both believe that the Boy Scout ban on openly gay troop leaders is wrong.
35. They both believe that a "two state solution" will bring lasting peace between the Palestinians and Israel.
37. Like Barack Obama, Mitt Romney also plans to add "signing statements" to bills when he signs them into law.
40. Both candidates plan to continue running up more government debt even though the U.S. government is already 16 trillion dollars in debt.